What is a Bucket List?
A Bucket List is a list of goals, hopes, and experiences one aims to accomplish before they "kick the bucket". Bucket lists can help clarify the desires we want in our lives so we can better work toward achieving our goals. They can provide us with better focus and motivation, supplying us with the accountability for reaching our goals.
Now, What is a Faith-Based Bucket List?
A Faith-Based Bucket List is much the same as a Bucket List. The only difference is your goals and experiences you are working toward include also working toward deepening your relationship with God and are aligned with Christian values.
How to Create a Bucket List
Creating a Bucket List should be a fun and fulfilling process. It shouldn't be difficult, but you will need to challenge yourself in order to discover what you'd really like to accomplish.
Envision- Exercise your imagination and envision adventures, encounters, feelings, and objectives you'd like to have in your lifetime.
Create a Blueprint- Design a plan that you'll realistically be able to follow in order to reach your target. Map out the details and embark on your trek!
Devote Yourself- Make a promise to yourself to follow through with your Bucket List. Committing will allow you to better focus on your dreams, causing them to become a reality.
Enjoy the Process- Seek for meaning and purpose. Take a deep look inside yourself and your values to determine goals that will be rewarding. Above all, have fun!
Faith-Based Bucket List Ideas
Read the Bible in a year(there is a Bible reading plan you can follow

here

)

Hop on a plane and travel somewhere you've always wanted to go

Attend a Christian concert

Invite a friend to church

Donate to your local food pantry

Tell someone how important they are to you

Take a trip to Israel

Apologize for a past wrongdoing

Volunteer somewhere

Go on a mission trip

Purchase a gift for a pastor

Make and deliver a meal to someone in your Church Family

Chaperone a youth mission trip

Take an underprivileged child under your wings and give them a great Christmas

Forgive someone

Watch a faith-based movie

Keep a prayer journal

Spend Christmas in Bethlehem

Lead someone to Christ

Join a bible study group

Attend a prayer group

Memorize 20 Bible verses

Send a friend a care package

Buy a homeless person dinner

Share your testimony

Attend a service of a different faith

Celebrate Passover

Walk the shores of Galilee

Learn to truly not judge others
Free Printable
Save and print this free printable so you can start writing your own Faith-Based Bucket List.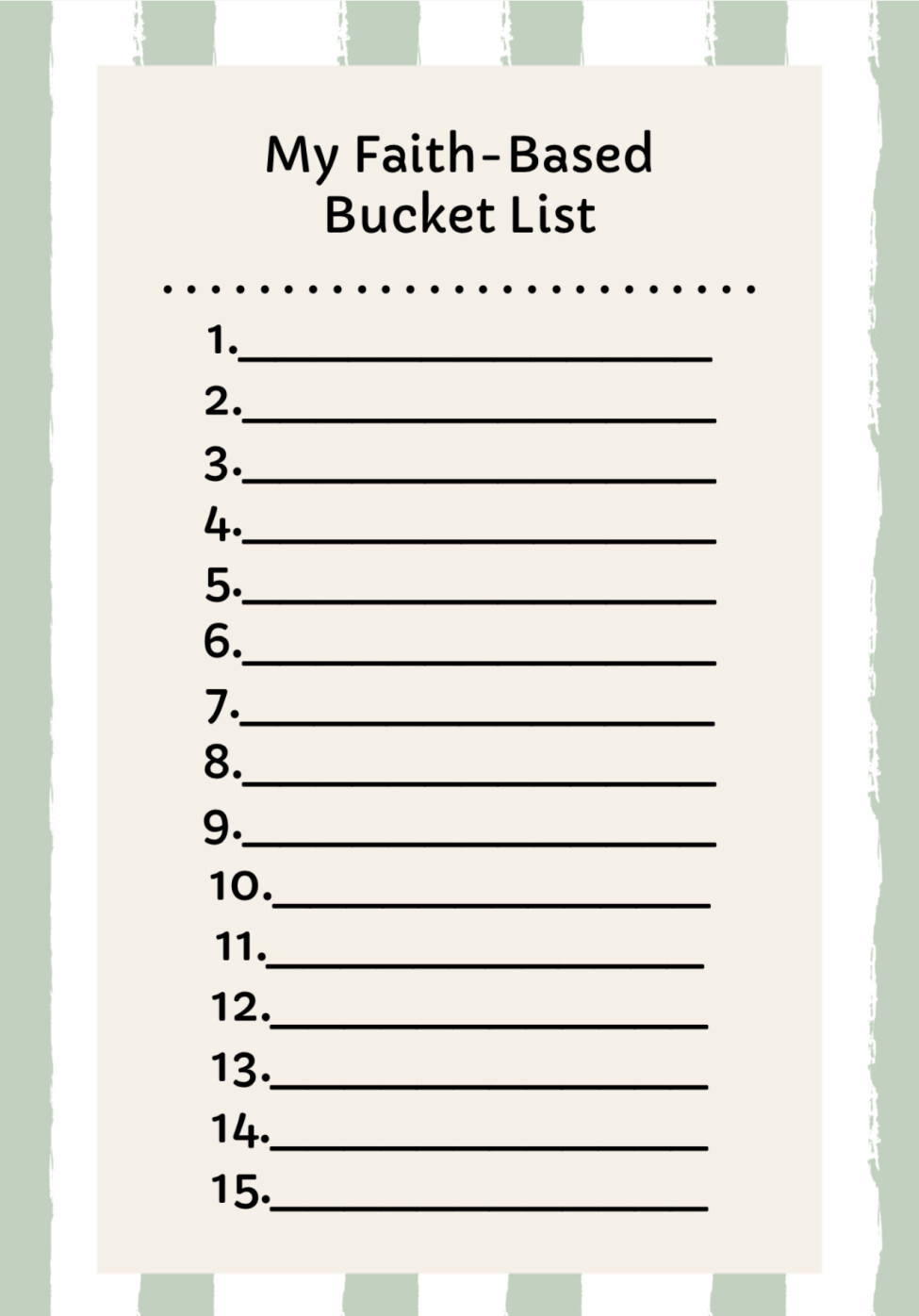 Before you go…
Remember, identifying your deepest aspirations is a gratifying process. Fulfilling those aspirations can be even more uplifting and beneficial. If you struggle along the way, seek our Father in prayer. He is always there for you, holding you up when you are down; cheering alongside you.
- Torrance Church of Christ