We know it can be unsettling to invite someone to attend church with you. You know the Gospel message is the vital and life-changing foundation in your life. You know serving the Lord, and building a relationship with Him provides you with everlasting life. You know and you desire to share the good news of the Gospel with your loved ones and you've been commanded to spread His word. So why does it feel daunting?
Human beings don't like to be uncomfortable, and we tend to avoid any feelings of discomfort. This includes both discomfort for ourselves and those around us. Why can sharing something we value so highly cause discomfort? There are a number of reasons why we feel rattled over the thought of inviting someone to church, especially if they are a non-believer. We may be worried they'll just decline the offer. Maybe you don't want to come off as a pushy person. It is possible you just don't know the most tactful way to start that conversation. Whatever your reasons may be, we hope that after reading this article you'll feel more at ease about inviting a friend to tag along with you this Sunday.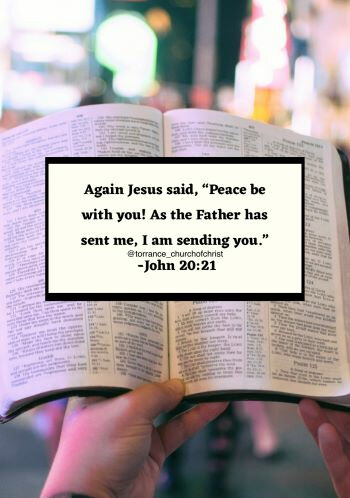 The Do's:
Mention your church- Intermittently bring up something you learned at church, an interesting fact, or something that brought you comfort. You'll be planting the seeds of interest within your friends.
Be careful with your choice of words- Use phrases such as, "Do you attend a church around here?" or "Did you attend a church when you were growing up?" These are a couple of great conversation starters to get onto the topic of church.
Keep it casual- Invite your friend to a casual and relaxed church function. This could be anything! If your church is holding any type of social gathering, such as a BBQ or movie night, that is a great place to introduce your friend to your church and other members.
Utilize Holidays- Inviting a friend to a holiday-centered church program can have a substantial impact. Around holidays, such as Christmas and Easter, people are naturally feeling more warmth in their hearts. They are more open to service and good deeds. The Gospel and Doctrine of Jesus Christ embody the importance of serving others. Holiday-centered programs highlight the service and sacrifices Jesus Christ endured for us. These programs are an excellent birthplace for the Spirit to manifest in your friend's heart.
Follow up- Your friend agreed to attend a church gathering or meeting of worship with you, but they haven't followed through with their end of the agreement. That's okay. Send them a quick text asking them if they're still planning on coming with you.
Love them- You're ultimately inviting your friend to church because you love them. You love them so much that you want to share this cherished element of your life with them. Let that love shine through in your invite. Even if they say "no", let them see that you will continue to love them anyway.
Pray- Say a prayer for guidance when inviting a friend to church. Let Him open and soften your friend's heart.

The Don'ts
Don't judge them- One major reason the topic of church and inviting someone, especially a non-believer, feels kind of taboo for both involved, is the underlying fear of judgment. The invited are often worried that their friend inviting them is secretly judging them as a person. If we are being honest, sometimes we are judging someone. We might be judging where they are in life, and desiring for them to see how having a relationship with Christ can improve their lives. However, It is important to not judge who you are inviting. Allow them the freedom to choose what is best for them and support their decision. On the flip side, we can feel like the person we are inviting is judging us. We worry they will think we are weird or awkward. We shouldn't let this cause us to fear.
Don't force or nag- When someone feels forced to do something, or they're always being nagged to do it, they usually don't want to follow through with whatever it is. This is the same for inviting a friend to church. Follow up with whoever you invited to attend with you, but do not cross the line over into nagging.

Remember
Inviting your friend to church with you doesn't have to be an intimidating experience. There are ways to ease the conversation and create a comfortable atmosphere, by just being you. Start the conversation, plant the seeds, let Him do His work, respect their decision and don't take a denial personally, and above all, continue to love them.
-Torrance Church of Christ