Building on the most recent sermon, let's take a dive into the significance music and song play in our lives, especially our faith.
What Does "You Are What You Listen To" Mean?
Have you ever noticed that if someone is repeatedly told they are not good at doing something, they will start to tell this to themself and eventually begin to believe it? Not only do they believe it, but they'll also start to actually act that way.
What we listen to has an influence on our thoughts, perspectives, actions, and beliefs. This influence is affected by all things we listen to on TV, and radio, things we are told by others, movies, and songs.
When we hear something enough, even if it is untrue, we begin to believe it, and it becomes true. We become what we are listening to, so make sure you are listening to the correct message.
What Can Listening to Music of Worship Do For You?
There are many blessings that can be received through listening to songs and music of worship. Here is a short list of blessings that we can look forward to:
Worship music reminds us of God. By listening to worship music we are able to constantly realign our values, and keep our focus on Him. It helps renew our faith time and time again. We are more connected to God and are better able to acknowledge all that He does for us.
Music and song allow us an opportunity to praise God for all that He continues to do for us. We are able to show our gratitude for Him. By doing so, our relationship with Him grows.
Listening to songs of worship has the ability to pick us up when we are down. It fills our souls and washes away feelings of negativity. It refreshes us, cleanses, and purifies.
It gives us the strength to overcome trials.
Songs and music of worship bring peace. When we listen to songs of praise, we can clear the background noise and static from our daily lives and make room for peace.
Worship music stimulates change. There are messages in the words that encourage us to live our lives to a higher standard. The words inspire us to live a more Christlike lifestyle.
Hope from within grows when we take the time to listen to the lyrics.
The Best Time To Listen
The best time to listen to worship music is ANYTIME! You can listen to it while running errands, on your way to work, doing chores, while taking a bath; the possibilities are endless.

Some Verses Mentioning Music and Song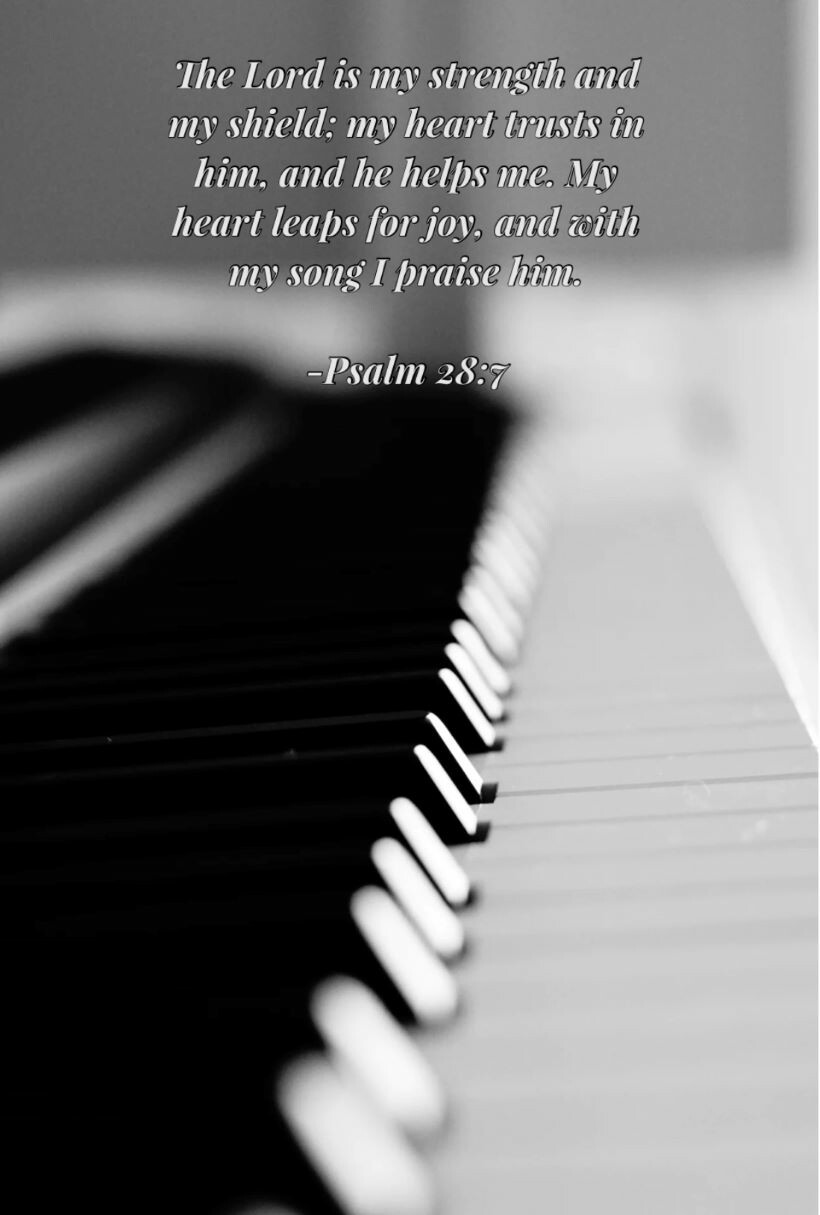 The Lord is my strength and my shield; my heart trusts in him, and he helps me. My heart leaps for joy, and with my song I praise him. -Psalm 28:7
I will praise God's name in song and glorify him with thanksgiving. -Psalm 69:30
Worship the Lord with gladness; come before him with joyful songs. -Psalm 100:2
and sang the song of God's servant Moses and of the Lamb: "Great and marvelous are your deeds, Lord God Almighty. Just and true are your ways, King of the nations. -Revelation 15:3
Is anyone among you in trouble? Let them pray. Is anyone happy? Let them sing songs of praise. -James 5:13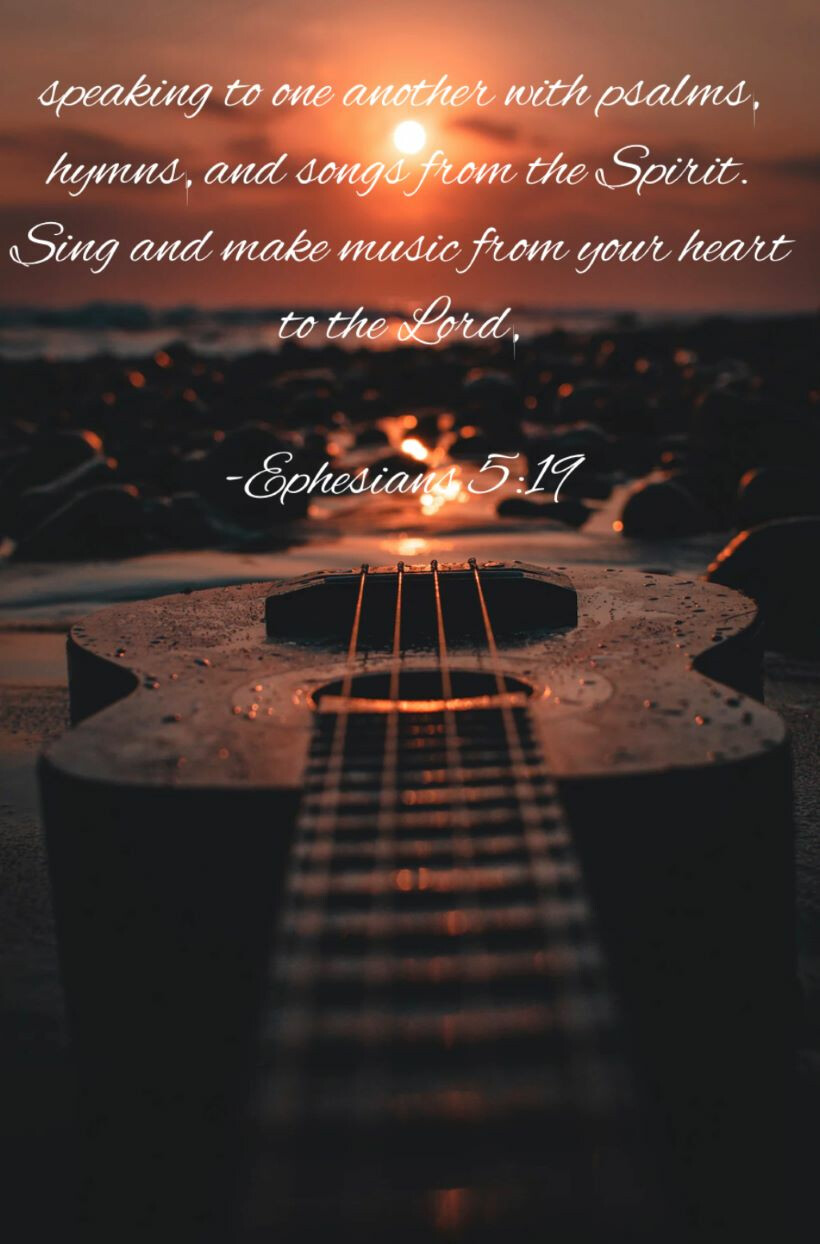 speaking to one another with psalms, hymns, and songs from the Spirit. Sing and make music from your heart to the Lord, -Ephesians 5:19
He put a new song in my mouth, a hymn of praise to our God. Many will see and fear the Lord and put their trust in him. -Psalm 40:3
The Sovereign Lord is my strength; he makes my feet like the feet of a deer, he enables me to tread on the heights. For the director of music. On my stringed instruments. -Habakkuk 3:19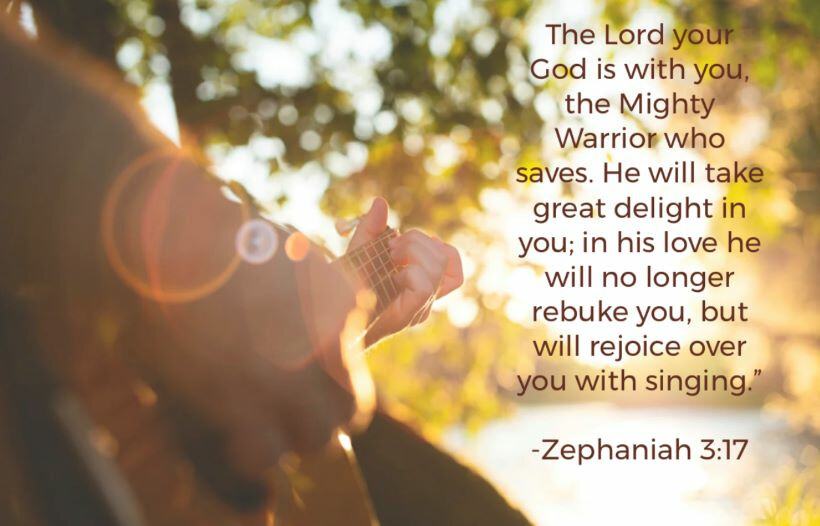 The Lord your God is with you, the Mighty Warrior who saves. He will take great delight in you; in his love he will no longer rebuke you, but will rejoice over you with singing." -Zephaniah 3:17
I will give thanks to the Lord because of his righteousness; I will sing the praises of the name of the Lord Most High. -Psalm 7:17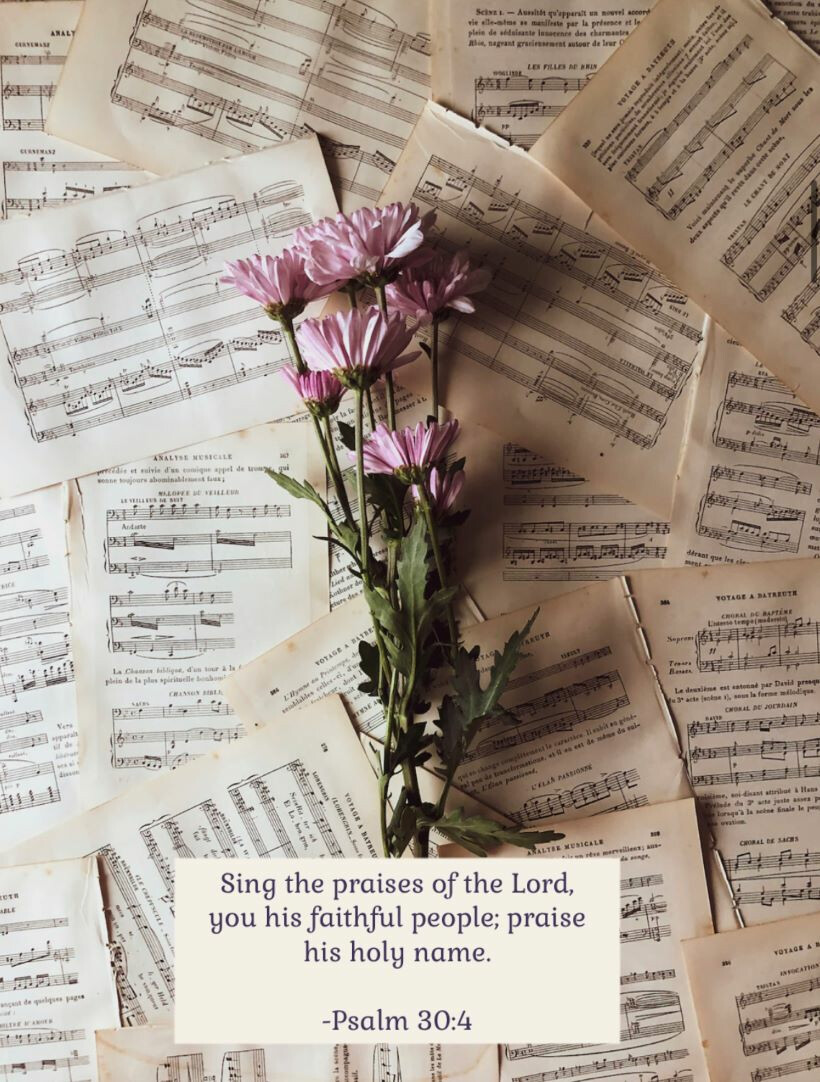 Sing the praises of the Lord, you his faithful people; praise His holy name. -Psalm 30:4
You are my strength, I sing praise to you; you, God, are my fortress, my God on whom I can rely. -Psalm 59:17
Let the message of Christ dwell among you richly as you teach and admonish one another with all wisdom through psalms, hymns, and songs from the Spirit, singing to God with gratitude in your hearts. -Colossians 3:16
Famous Quotes About Music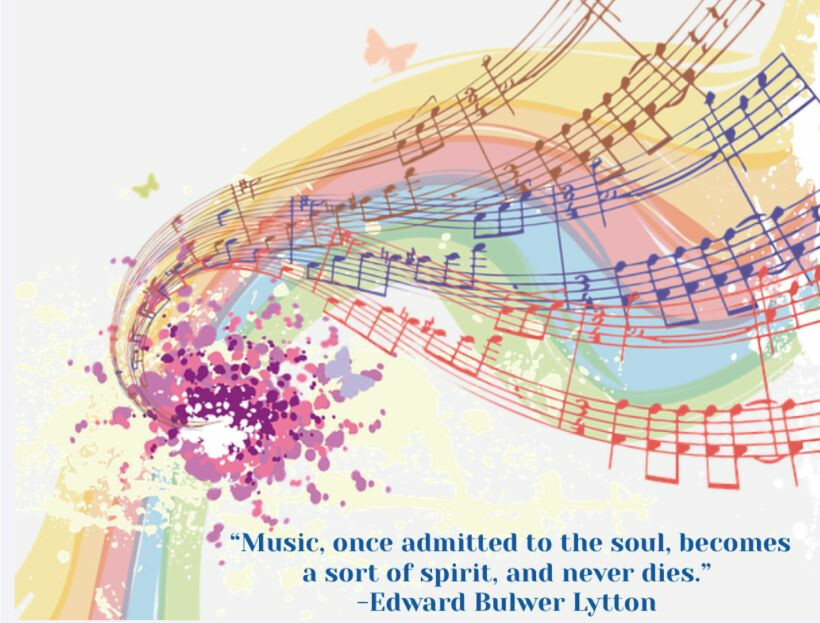 "Where words fail, music speaks." — Hans Christian Andersen
"Music is the universal language of mankind." ― Henry Wadsworth Longfellow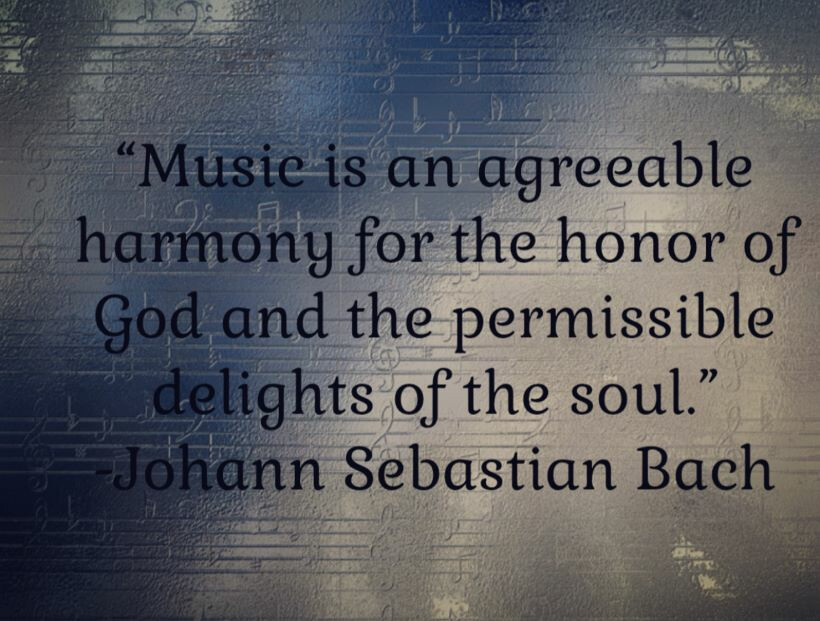 "Some days there won't be a song in your heart. Sing anyway." — Emory Austin
"Music washes away from the soul the dust of everyday life." — Berthold Auerbach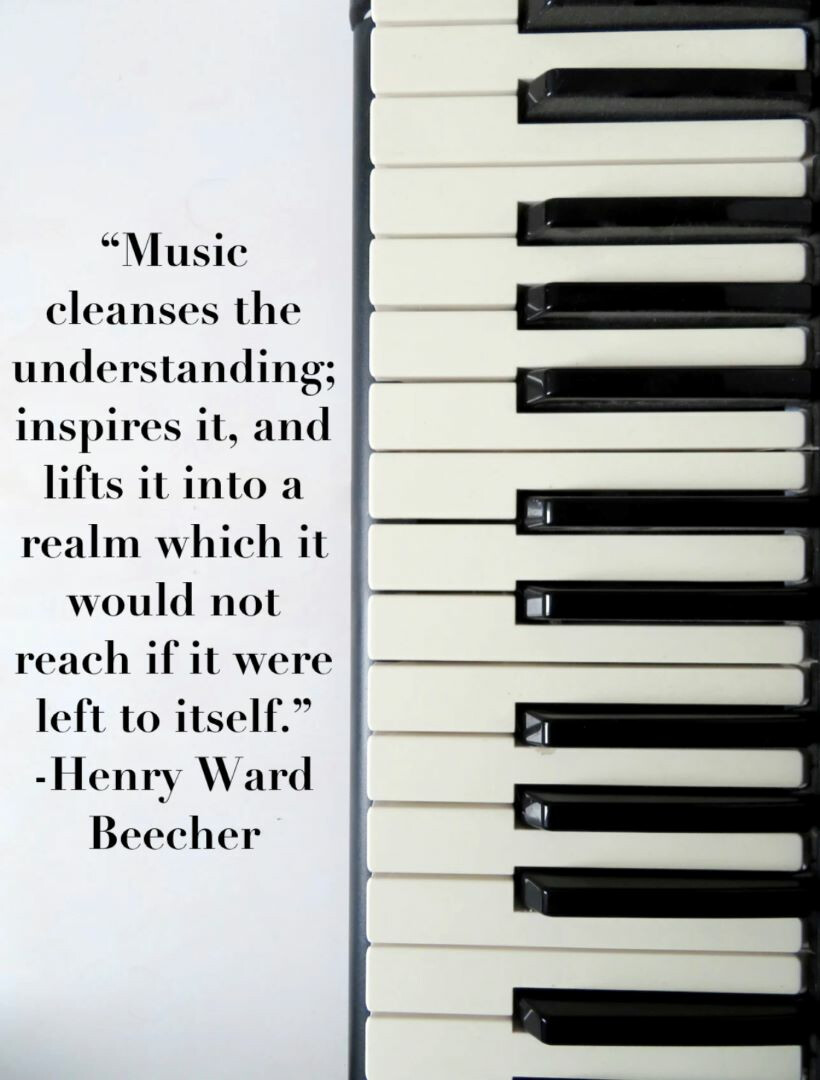 "Music has healing power. It has the ability to take people out of themselves for a few hours." — Elton John
"Music is a weapon in the war against unhappiness." — Jason Mraz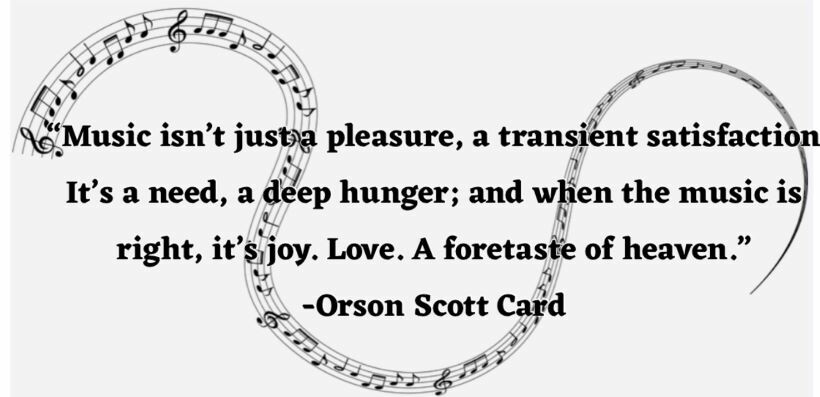 "Music is powerful. As people listen to it, they can be affected. They respond." — Ray Charles
"Music is well said to be the speech of angels; in fact, nothing among the utterances allowed to man is felt to be so divine. It brings us near to the infinite." ― Thomas Carlyle
As You Can See
Music and songs of praise and worship are powerful tools that can be used to reinforce your faith, nourish your sacred relationship with the Almighty, and decrease feelings of negativity and stress. The things we hear can have an effect on our overall well-being, so we must be vigilant and make sure we are listening to music that will uplift us. Strive to live up to your highest potential by becoming the righteous person God knows you can be.
-Torrance Church of Christ